Enchanting Japan
Using a wonderful range of luxury hotels, a selection of superb included meals and your excellent tour leader on hand to make sure everything runs like clockwork, this is a great introduction to Japanese culture often considered impenetrable by the outside world.
13 nights, 4-star/5-star, small group tour
Detailed itinerary
Day one and two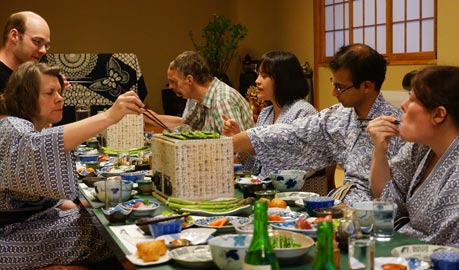 Get a fascinating insight into Japan's capital city with the help of your tour leader and an expert local guide.
Today you will arrive in Tokyo, Japan's capital and the tenth most populous city in the world. On arrival you will be met by your driver and make your way by private taxi to your hotel in the traditional Asakusa district of the city, where your tour leader will be waiting to welcome you in the lobby.
This evening you will join your group for an orientation meeting before heading out to one of the area's excellent restaurants for a meal – a great introduction to Japanese food and dining etiquette.
On day two, you will be joined by an expert Inside Japan guide in addition to your tour leader. Your guide is a Tokyo local with a great knowledge of the area. With your tour leader, he or shee will be able to give you a fantastic depth of insight into the famous landmarks and lesser-known spots you'll be visiting today. Included is a ride on the Sumida river bus, concluding with a cup of green tea in the lovely Hamarikyu Gardens – a real oasis among the skyscrapers.
Overnight: Asakusa View Hotel
Day three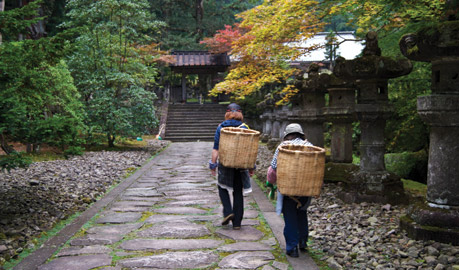 Explore the dazzling temples and shrines of Nikko, the site of Japan's most ornate religious architecture.
Today you will make the relatively short journey from the capital to Nikko, the final resting place of Japan's most famous shogun, Tokugawa Ieyasu. Ieyasu was the founder of the Tokugawa shogunate, which ruled Japan from 1600 until the Meiji Restoration in 1868. Nikko, the site of his mausoleum, is known throughout Japan for its dazzlingly ornate architecture – quite different from the spare, clean style traditional of Japanese architecture.
Here you will discover the renowned temple and shrine complex in its forest setting, with a local guide to introduce you to some of the history of the area. Don't forget to look out for the famous three wise monkeys, warning all comers to "see no evil, speak no evil, hear no evil".
Tonight you'll be staying at a deluxe ryokan inn, with Japanese-style rooms and a delicious kaiseki dinner included.
Overnight: Senhime Monogatari
Day four and five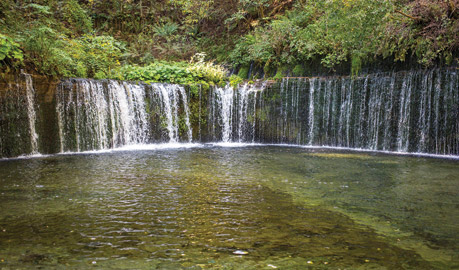 Explore Karuizawa and take a lesson in soba noodle-making.
After a Japanese-style breakfast at your ryokan, today you'll head out with your tour leader on a private coach for a half day of exploration. Your first stop will be the national park surrounding Nikko, which is home to some spectacular waterfalls, lakes and beautiful forests. Moving on, you will make your way to Karuizawa, an upmarket mountain resort famous as a holiday retreat for the well-heeled – including the Japanese royal family. You'll arrive in the evening and check into your hotel.
On day five you will be joined by another knowledgeable local guide as you visit some of Karuizawa's attractions – including the Shiraito waterfall, Asama volcano, and the A. C. Shaw Memorial House and Chapel – dedicated to the Canadian minister who popularised Karuizawa as a holiday resort. Included today will be a lesson in soba noodle-making, a speciality of the region. You will, of course, have the chance to eat the fruit of your labours for lunch.
A top-quality dinner will be included on both nights of your stay in Karuizawa.
Overnight: Prince Hotel Karuizawa
Day six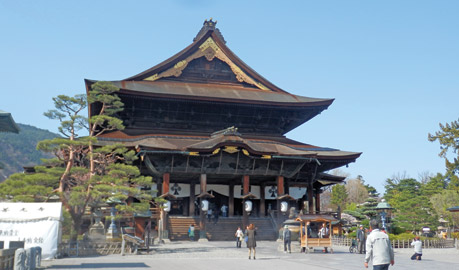 Visit the onsen-bathing snow monkeys of Yudanaka.
Today you will make the short journey from Karuizawa to Nagano, an alpine city famous as the home of Zenko-ji, Japan's most important Zen temple, and as the host city of the 1998 Winter Olympics.
Today you will also make the trip to Yudanaka, a tiny onsen town that has become famous the world over for its hot spring-bathing snow monkeys. Tickets to the monkey park are included in your tour, and you'll walk through the forest to reach the monkeys as they keep warm in their onsen bath.
On your return to Nagano this evening we recommend taking a leaf out of the monkeys' book and heading to the nearby bathhouse for a nice soak before bed.
Overnight: Metropolitan Hotel
Day seven and eight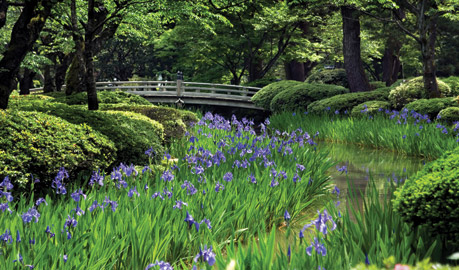 Take a tour of Kanazawa, one of Japan's most beautifully preserved historical cities.
This morning you will have the chance to explore Zenko-ji temple before leaving Nagano. You will rise early to join the monks in morning prayers, before being invited to search for the "key to paradise" in a pitch-dark passage underneath the main hall of the temple. It's said that grasping the key is equivalent to shaking hands with Buddha, and those who find it will find their way to Buddhist paradise!
Following this you will leave the Alps behind and make your way by limited express train to the city of Kanazawa on the Japan Sea coast. Like Kyoto, Kanazawa was spared bombing during World War II thanks to its impressive collection of religious sites and important cultural assets – meaning that today it is one of Japan's best-preserved historical cities. The rest of the afternoon will be free for you to explore the city on your own.
On day eight, you will be joined by a private local guide as well as your tour leader for an extensive tour of Kanazawa's best sights. This is sure to include the wood-panelled geisha districts, the preserved houses of the samurai quarter, a traditional gold leaf workshop and – of course – Kanazawa's top attraction, Kenrokuen.
Kenrokuen is lauded as one of Japan's top-three landscape gardens and is well worth taking the time to appreciate. You might also visit the local fish market, or the local modern art museum – one of the finest in Japan.
Overnight: Nikko Hotel Kanazawa
Day nine to 11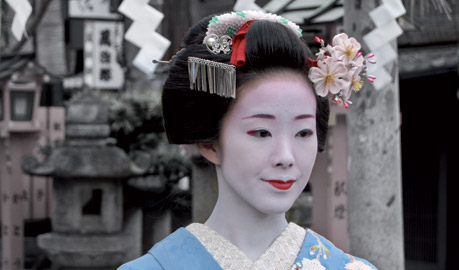 Discover Kyoto, home to the Golden Pavilion of Kinkaku-ji, the ten thousand red gates of Fushimi Inari Shrine and the hilltop temple of Kiyomizu.
If Tokyo is Japan's beacon of modernity, Kyoto is its repository of history. Serving as the imperial capital for more than a thousand years, Kyoto is home to a staggering 17 World Heritage sites and a wealth of ancient shrines, temples and gardens.
On the day of your arrival, you'll be free to begin exploring some of these attractions, while later in the day your tour leader will lead a walking tour of the city's traditional Gion geisha district. The image of a geisha in full regalia is one of the most recognisable images of Japan, and if you're lucky you might even spot one of these elusive figures on her way to an appointment this evening. A delicious evening meal at one of Kyoto's many outstanding restaurants will be included.
On day 10, your tour leader will take you to some of Kyoto's most famous sights, from the Golden Pavilion of Kinkaku-ji to the Kiyomizu-dera Temple on a hill overlooking the city. Kyoto has so much to offer that it would take you years to see it all, but with your tour leader on hand you'll certainly see a great selection of famous sites and lesser-known locations. Today you'll have a private afternoon tea with a maiko (apprentice geisha).
On day 11, you will have a choice: continue exploring Kyoto or head out of the city on an excursion to one of the many exciting destinations within easy reach of the rail network. Your tour leader will be heading to one of their favourite locations – perhaps the impressive samurai castle of Himeji, or the ancient capital of Nara with its giant Buddha and friendly deer.
If you would prefer to break away from the group, your tour leader will be happy to help you make alternative arrangements for the day.
Overnight: Okura Hotel Kyoto
Day 12 and 13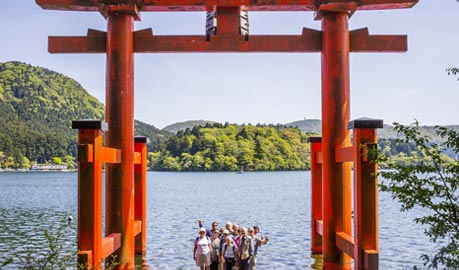 Relax in hot spring baths, admire world-class artworks and perhaps catch a glimpse of iconic Mount Fuji as you spend two nights in Hakone National Park.
Today you will jump aboard the bullet train and speed east to Hakone, a beautiful national park just a stone's throw from Tokyo. Today we have included tickets to the outstanding Hakone Open-Air Museum, where you'll have the chance to wander among masterpieces by the likes of Henry Moore and August Rodin, set against a stunning mountainous backdrop. A top-quality evening meal will be included in your tour tonight.
On day 13, you will have a full day to enjoy everything that Hakone has to offer. Hitch a pirate ship ride across Lake Ashi, eat a black egg boiled in volcanic hot spring waters, take a cable car up the mountainside and bask in some of the area's famous hot spring baths. Best of all, Hakone is the home of Mount Fuji – and if the weather is favourable you will be treated to truly spectacular views of Japan's most famous mountain.
Overnight: Hyatt Regency Hakone
Day 14 and 15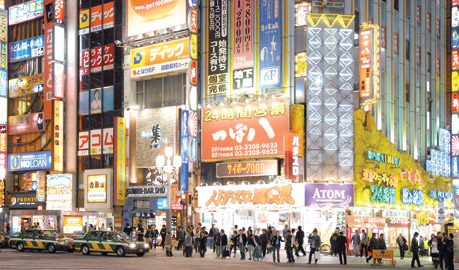 Toast the end of your trip with a final-night meal at one of Tokyo's top restaurants.
On day 14, it's time to climb aboard the bullet train for one last journey – back to Tokyo. Use this time in the capital to get in some lastminute shopping in upmarket Ginza, visit the top of the world's tallest tower, or perhaps explore the futuristic Odaiba Island in Tokyo Bay. Whatever you choose to do, Tokyo is bound to provide you with a fantastic final afternoon in Japan.
This evening you'll join your tour leader and group for an included final-night meal at one of the city's superb restaurants – the perfect way to toast the end of your trip in style.
On your final morning it's time to say sayonara to Japan as you return to the airport by shared shuttle bus in time for your flight home.
Overnight: Century Southern Tower
Departure Dates and Costs per Person
25 August 2018: £5975
8 Sept 2018: £5975
29 Sept 2018: £5975
6 Oct 2018: £5975
27 Oct 2918: £5975
16 Mar 2019: £6295
20 Apr 2019: £6295
11 May 2019: £6295
01 Jun 2019: £6175
13 Jul 2019: £5995
03 Aug 2019: £5995
24 Aug 2019: £5995
07 Sep 2019: £6175
28 Sep 2019: £6175
05 Oct 2019: £6295
26 Oct 2019: £6295
02 Nov 2019: £6175
What is included?
Full-time services of your tour leader
14 nights' accommodation
Breakfast every day and seven evening meals
Your info pack
IC transport card with 2,500 yen credit for city transport
Seven-day Japan Rail Pass
Three-day Hakone Free Pass for transport in the Hakone region
All transport between destinations in Japan
Arrival transfer by private car and departure by shared shuttle bus
Sumida river bus ride and entrance to Hamarikyu Gardens in Tokyo
Half-day private guide service in Tokyo
Full-day private guide service in Karuizawa, Nikko and Kanazawa, including entrance fees
Soba noodle-making lesson in Karuizawa
Private transfer and entrance to the Jigokudani monkey park in Yudanaka
Private afternoon tea with a maiko
Tickets to Hakone Open-Air Museum
Luggage forwarding from Karuizawa to Kanazawa and from Kyoto to Tokyo
Shared portable wi-fi access throughout trip
ATOL and ABTA protection for your financial security
RB Collection 'VIP Experience' service
What's not included:
International flights
Any local transport (subways, taxis, buses) unless covered by the included transport passes
Entrance fees (including those for temples, shrines and museums) unless otherwise specified
Baggage handling and luggage forwarding unless otherwise specified
Cost (Approximately)
from £5,975 per person + international flights
This is a higher-standard two-week tour using four- and five-star hotels. If you prefer to have more included and planned in advance, this is the best option for you.
Oliver's view on Enchanting Japan